Get outside on Green Up Day.
We know it isn't your litter but Vermont needs our help to be beautiful! Pick up your free Green Up supplies from your Volunteer Town Coordinator and spend an hour or two picking up litter around your town. It makes a huge difference and it feels great to give back to your community.
DOWNLOAD THE APP
The Green Up App can help you build teams, track your routes, communicate, set challenges and locate trash. Apple store or google play.
GREEN UP MENTOR PROGRAM
Green Up has launched a mentor program that teams motivated neighborhood students with their Volunteer Town Coordinator. Contact us to learn more.
REPORT YOUR WORK
Share your good work with your town coordinator. Collecting stats on # of volunteers, miles of roads, and # of bags of trash picked up helps us report progress.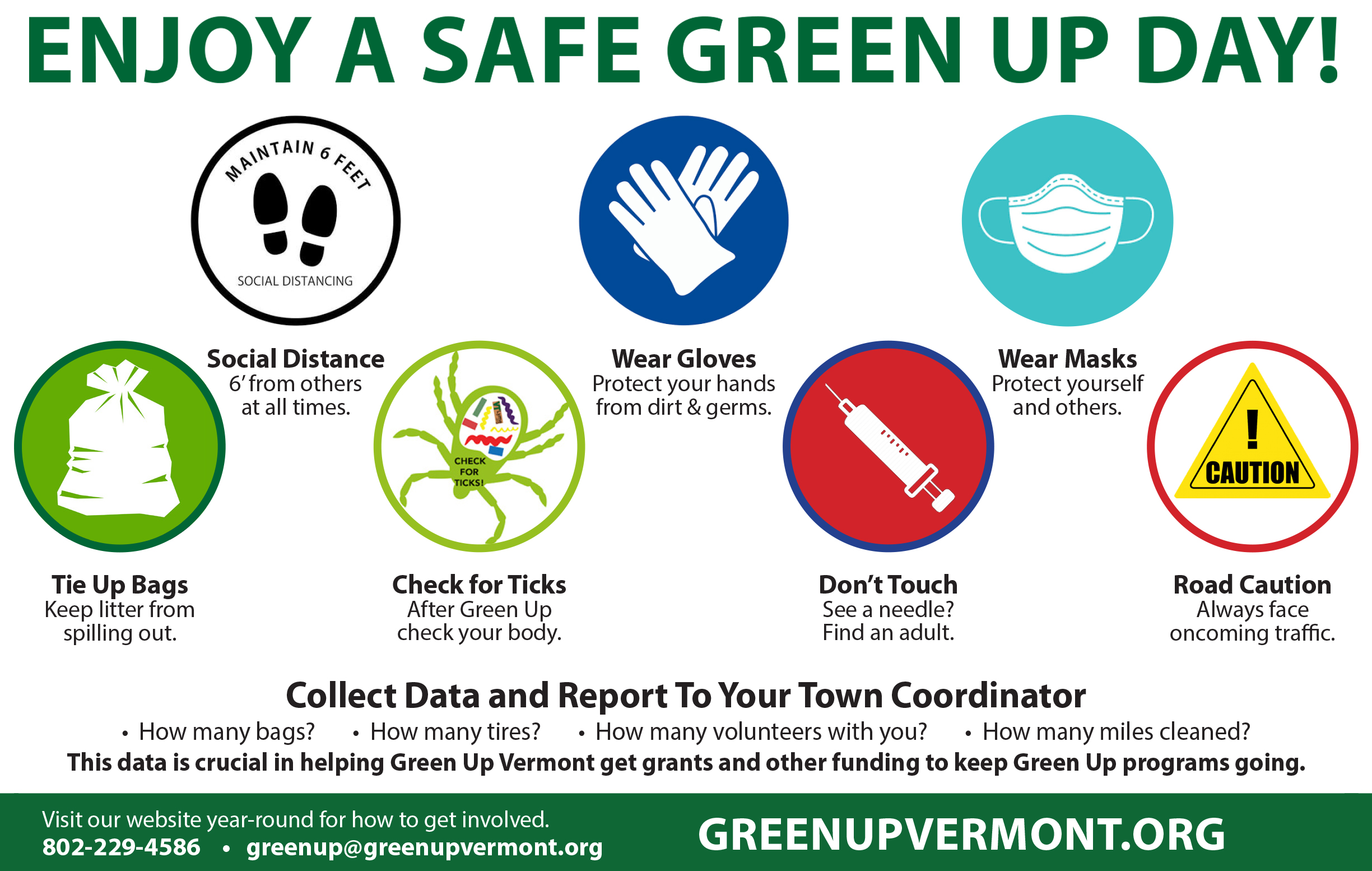 Be
safe

on Green Up Day.

• Tie your trash bag closed when full – keep your good work in the bag!
• Wear long pants and boot and always check your body for ticks.
• If you see a needle or sharp material – find an adult and do not put it in
your bag with the other trash. Put it in a thick plastic container, clearly mark "DO NOT RECYCLE" and duct tape the lid on, then put it into the regular trash. Visit www.healthvermont.gov for further information.
• Road Caution – Always work facing oncoming traffic.
• Follow State Covid-19 guidelines.• Wear gloves.
• Report your trash pick up stats to your town coordinator.
Green Up Gear




Be Safe

&

Reduce Waste
T-shirts – Safety green cotton blend with Green Up logo on the front and reflective print on the back. Unisex and childrens sizing available. Order by April 10 to receive by Green Up Day. $15.00 ea. includes shipping

Waterbottles – 20 oz. aluminum, festive green bottle with carabinger and Green Up Logo. The best part…the number of single use bottles we keep out of landfills, waterways and off roads. $12.00 each includes shipping
Get Yours!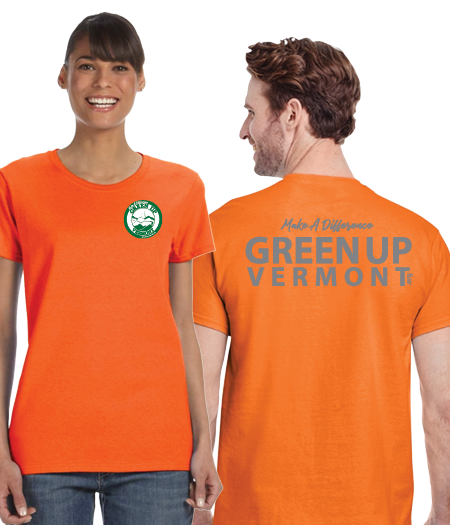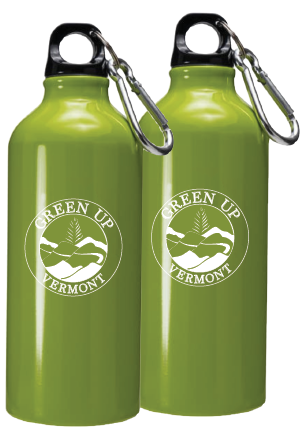 You can make a difference!
Your support keeps Green Up operating and allows us to expand our programs and initiatives in communities and schools.
Give Today!
Fun initiatives that make a

BIG

impact.
Green Up Vermont is a private nonprofit which means we must fundraise our operational budget every year. These common tasks make a BIG impact and are easy for you or your business to participate in.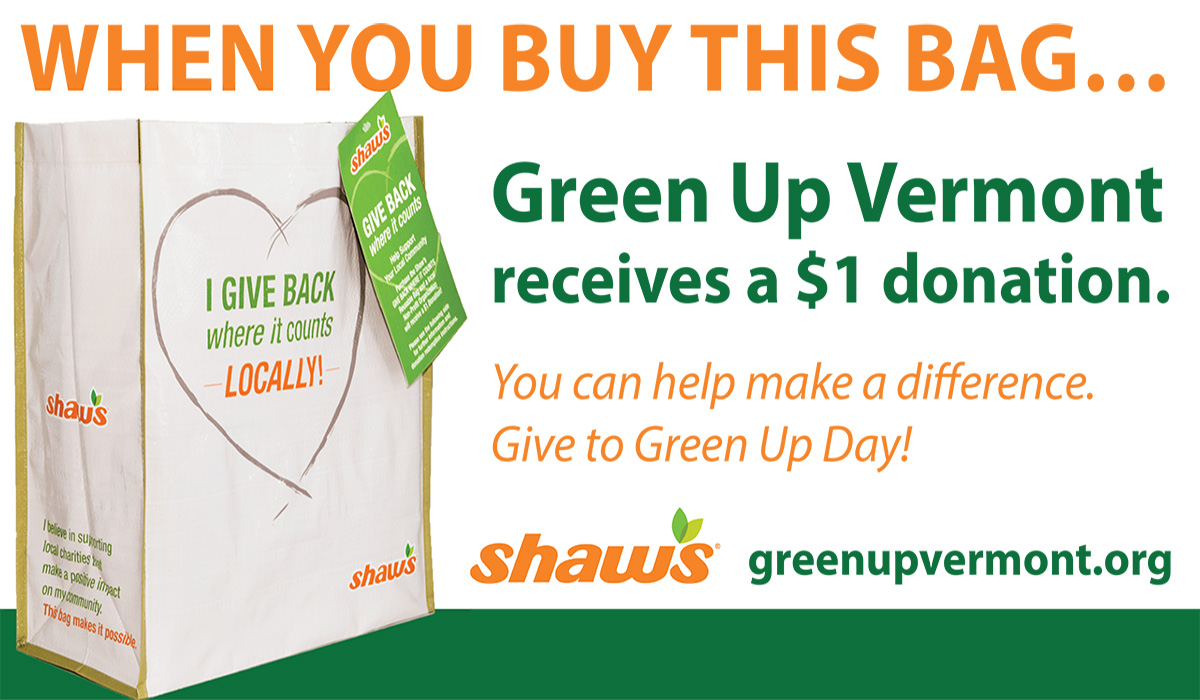 During the Months of April & May
We can all use extra reusable shopping bags. During April and May $1 from each bag purchased will be given to Green Up Vermont. Visit any Shaws grocery store in Vermont to purchase your bags and make a difference to our environment.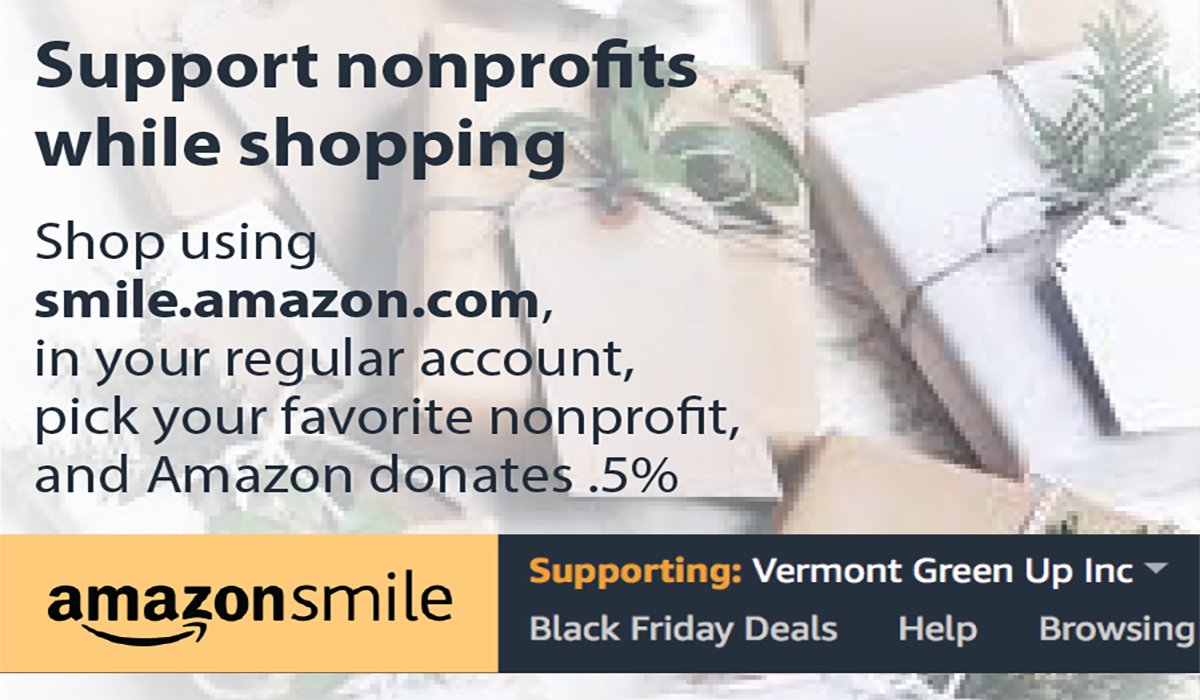 Smile.Amazon.com
Green Up totally supports shopping at your local businessess but when you have to turn to Amazon, use smile.amazon.com with your regular login information. Amazon will donate .5% of your purchase to Vermont Green Up, Inc., no cost to you!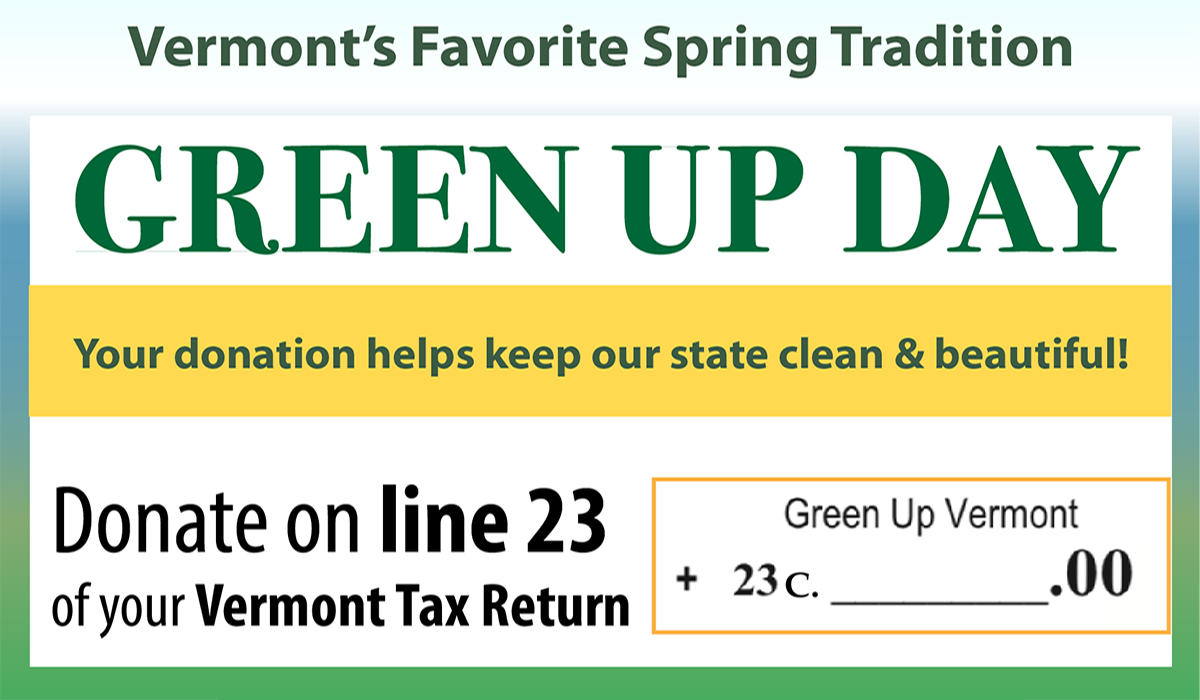 An Easy Way to Help
When doing your taxes remember to donate to Green Up Vermont on Line 23 of your VT return. Even if you can only spare a couple bucks, this program really adds up and helps us keep Green Up Day alive. Your donation truly makes an impact.