Our Partners are doing
great things

for Vermont and the environment.

We are so thankful for the support of our corporate partners and are proud to share their environmental efforts.
GREENBACKER CAPITAL JOINS AS A PROUD SPONSOR OF GREEN UP VERMONT
Greenbacker Capital is a proud sponsor of Green Up Vermont. With Greenbacker's commitment to advancing sustainable infrastructure, and our Technical Asset Management team based in Montpelier, Greenbacker and Green Up Vermont's values are strongly aligned. A Greenbacker owned solar project, located at the Brattleboro Landfill, showcases our dedication to reducing waste and maximizing use of the land in which our sites operate. Through the electricity and revenue generated at the landfill, the Windham County Solid Waste Management District (WSWMD) was able to maximize the benefit of a brownfield site that is legally restricted from most other uses. The revenue generated has allowed the WSWMD to afford equipment to build out the second largest food composting operation in Vermont. The Brattleboro Landfill Project is estimated to have saved its subscribers across 18 towns in Vermont almost half a million dollars. As of 2020, the 5.7-megawatt solar array was Vermont's largest net-metering project, offering subscribers the ability to participate in creating clean energy while saving on their power bills through credits received for power they add to the grid.
CASELLA BREAKS GROUND…
The new state-of-the-art de-packaging facility is designed to separate spoiled and contaminated food products from its packaging. The plant will use a mechanical process to separate food waste from packaging allowing for non-contaminated recycling and composting. The facility is designed to handle up to 100 million pounds of organic material annually and has already contracted with several in-state commercial food waste producers to accept their spoilage. The organic material will be shipped to a highefficiency anaerobic digester and converted to biogas and the packaging material will be recycled. Depending on the type of food waste received, the method of collection, and the packaging material, the food scraps may also be used as animal feed for local farms. The facility is expected to be operational before winter.
FUSE MARKETING – EXCITED TO SUPPORT GUV
As a local Vermont business, educating our staff and implementing strategies with our marketing clients around how to be more sustainable is crucial. Fuse has done a lot in favor of the environment, including past participation in Green Up Day, an offsite at the CSWD Materials Recovery Facility (MRF) to learn more about what goes into recycling and why it's important, and we have established an Environment & Sustainability Committee that meets on a bi-monthly basis to develop new and innovative ways to fund, activate and promote sustainability and the environment. All these efforts are done to ensure Fuse is working together as a company to help reduce our environmental impact. Click through to find out more about Fuse and follow us on Instagram at @fuse_marketing. FUSEMARKETING
NATIONAL LIFE FOUNDATION SHARES
One among many cool things is our "Do Good Garden." We had a small community garden on our Vermont campus that wasn't tended to for a year or two and became overgrown. One of our colleagues asked if he could resurrect it and donate the harvest to a local food shelf. Thus, the Do Good Garden was born! Charlie Maitland oversees it and with a dedicated team of volunteers has created a socially distanced experience in which cherry tomatoes, squash, zucchini and more grew beautifully and has been consistently donated throughout the summer to Just Basics food shelf in Montpelier.
UVM Medical Center Wins National Award for
Environmental Sustainability
For the 11th straight year, The University of Vermont Medical
Center has been honored as one of 25 hospitals to receive the Environmental Excellence award by Practice Greenhealth, a leading national advocate for sustainable practices in health care. For the 2020 award, Project Greenhealth highlighted UVM Medical Center's efforts to mitigate the impact of constructing the new Miller Building. Construction debris can comprise up to 36 percent of overall landfill waste, which is a source of up to 18 percent of U.S. greenhouse gas emissions. In 2019, the UVM Medical Center opened a new inpatient building where 100 percent of construction and demolition debris was recycled, turning what many consider trash into reusable materials.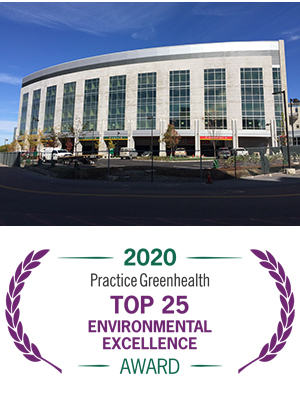 Community College of VT
Is happy to report that fall enrollment is very strong. More than 5,000 students are taking courses at CCV to begin or advance their college education and earn valuable workforce credentials. And thanks to a generous gift from the J. Warren and Lois McClure Foundation, more than 600 members of the Vermont high school class of 2020 are enrolled at CCV this fall. During our summer and fall semesters, we've offered classes in a variety of creative formats in order to provide students with the best learning experience possible. A leader in online education since the 1990s, CCV has adapted to the challenges presented by Covid-19 and is proud to continue offering a high-quality, local, affordable education to Vermonters.
Darn Tough Vermont®
…is committed to being a positive force in the community and
environmentally, which begins with durability. Making a more durable product is a hallmark of buying less and keeping textiles out of landfill, and it's one of the best ways to minimize the usage of raw materials. During the pandemic they conducted their first greenhouse gas inventory to understand the carbon footprint of their products and operations. They identified nearly two dozen ways to reduce their footprint, and charged ahead with a series of social and community-related commitments. They fully believe success depends on the health of their community here in Vermont and the health of the environment.